I wish I could say I was one of those people who has always taken skincare very seriously and approached it proactively. Unfortunately, that is not the case. I did not get serious about a skincare routine until I looked in the mirror one day and thought S***, I am looking rough. So, I overhauled my skincare routine and tried to shed a couple years off my skin.
But the one skincare routine I have stuck with since middle school is face masks! I wish I could say they were preventative/anti-aging but they were to keep my breakouts in line. They were the only thing that really helped during a bad breakout. Since middle school, my mask obsession has evolved and taken on new forms. I love being pampered. There is NO greater luxury to this mama than a day at the spa. Well, a mask is my little mini version of a trip to the spa in my own home every night. I would like to say that I use a mask each and every night, but my schedule can get so hectic and busy that it really only turns out to be about 3-4 nights a week. Sometimes I do a mask during naptime too. And I use ALL different kinds of masks. Truth, I only own about 5-10 makeup products at a time, but I always have a stockpile of masks/scrubs/and other spa-like at home treatments!
If you're serious about taking care of your skin, masks are one of the pillars of great skin. Leaving them out of your weekly routine would be like eating healthy but never working out, or vice versa. Masks compliment other skin care routines, like night creams + sunscreen.
I have SUPER sensitive skin. I have only had two facials in my life and both times I had a terrible reaction and broke out in a rash that lasted over a week. So I approach any new skincare products with extreme caution. As a general rule, I try to stick to more natural products/less toxic products, so all of my go to masks these days are on the more natural end of the spectrum.
So here is the thing about face masks, it's not a one size fits all kind of thing. There is a whole confusing world of face masks out there. There are face masks for breakouts, brightening, age-defying, hydrating, clarifying, balancing, purifying, soothing….the list goes on. While I would like to use a mask for each and every category, my face mask budget is not endless, so I am going to boil it down to the essentials. This list could easily have been a ten mask list, but ten masks seemed excessive ;). In my opinion, these are the four types of masks every 20 and 30 something girl should know about and my picks for each category…
(1) Blemish/spot treatment
$22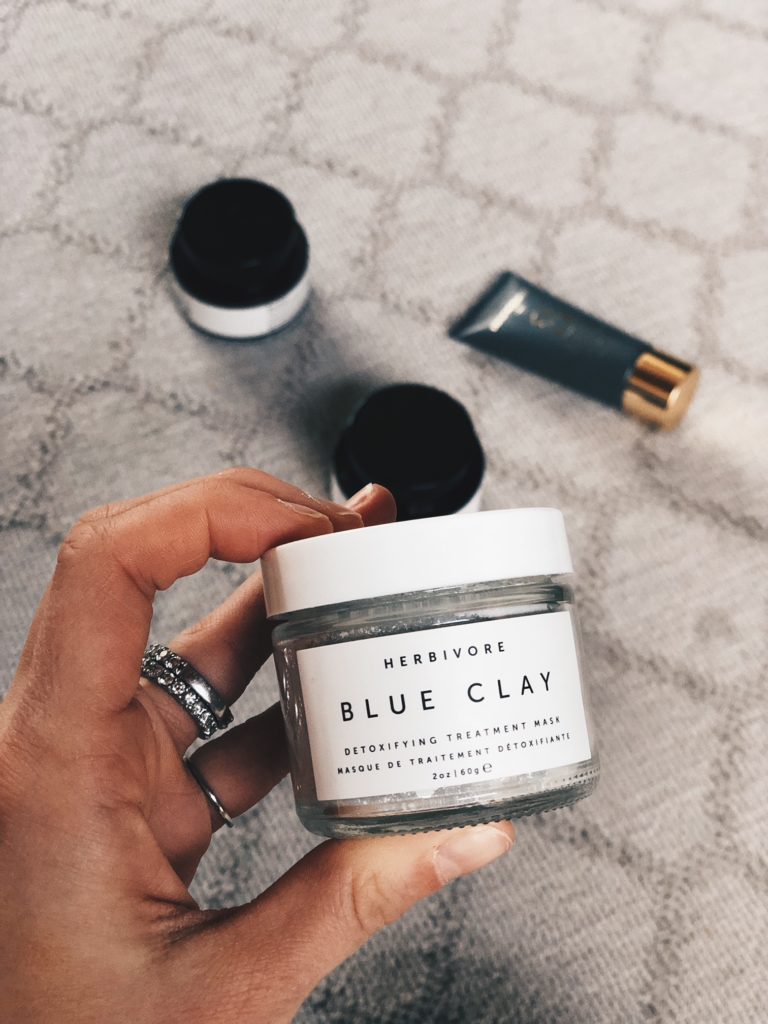 For the majority of my life, my lifesaving breakout mask was the Clinique clay mask. It was the ONLY thing that helped with breakouts and left my skin feeling baby smooth and fresh. I did not think I could ever find a more natural mask to replace it…but after a couple years of searching, this one actually works for breakouts. AND, it's relatively inexpensive.  In full disclosure, when I ordered this for the first time and opened the jar, I was not expecting a powder. You add a little water to form a paste, and then apply. But Herbivore is amazing and makes heavenly skincare products. I have never used one I didn't like. They also make a pink clay mask and tansy mask, which I have also tried. They're both amazing, but not as great for breakouts.
(2) Charcoal mask
BEAUTYCOUNTER – balancing + charcoal mask
$48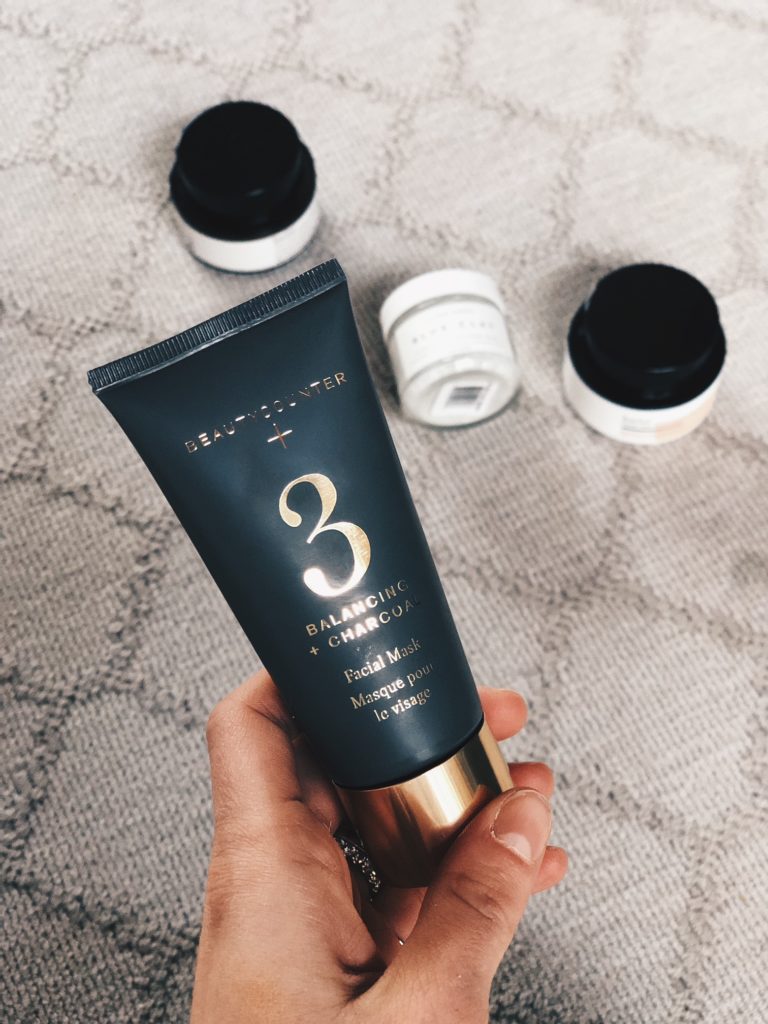 So, we all know the wonders of charcoal. It is one of those crazy things made by mother nature that just leave me amazed. It can literally absorb oil out of water, suck toxins out of air, pull poison from out bodies, its benefits are endless. It only makes sense that we should be using this on our skin too. Our skin is our biggest organ and takes it's fair share of mistreatment throughout the day. It's constantly encountering environmental toxins and toxins from the not so natural products we use. If you're not sold on the toxins angle, it draws all kinds of impurities from your pores like old makeup and buildup too. So a detoxifying mask is ESSENTIAL. This mask leaves my skin feeling SO smooth and refreshed. I use it at least once a week, but try to do 2 times a week when I can.
(3) Brightening overnight mask
BELIF – overnight brightening mask
$34
We all have those blah skin days. After a week of not enough sleep, a weekend of too much fun, or just a week of stress weighing down on me, sometimes my skin just needs a pick me up. I used to be very skeptical of overnight masks. I don't want to ruin my sheets and I cannot sleep when it feels like I have a heavy mask on my face. This Belif mask is lightweight and goes on like a moisturizer. My obsession with Belif products is real. It's Korean skincare meets natural skincare and it is heaven. I am beyond obsessed with my Belif daily moisturizer. If you want to read more about my daily skincare routine, see HERE. This face mask does not disappoint. I wake up feeling like I got 12 hours of sleep and SO refreshed.
(4) Anti-inflammatory + soothing mask
$36
Like I said, I have really sensitive skin. Anything can set it off, a bad beauty product, harsh weather, unhealthy or super salty foods, a virus, literally anything. I even get a rash on my face when Blake's face is freshly shaven (with that tiny stubble) and he comes in for a smooch. So sometimes I need a mask that just soothes my tired or inflamed skin. This mask is so good. It smells + feels like a spa treatment. It has this amazing cooling sensation as soon as it hits your skin. You know that feeling when you wake up and your face just feels puffy and swollen? This mask = the cure. If you ever get a puffy/swollen face, rashes, skin irritation, or too much sun, this is the mask for you!