My travel bug is always there, but sometimes it becomes impossible to ignore. It is almost cyclical. Every year, as soon as the holidays die down, I NEED to start planning my next great adventure. I start calculating everything in terms of travel. Do I need those boots? Nope, that is one night in a hotel in Dubai. Should I order in or heat up the last bowl of leftovers? Leftovers, I would rather eat out in London. You get what I mean.
Unfortunately, my husband's work makes it near impossible to travel internationally 10/12 months of the year. So we are pretty much confined to July and August for travel. Which means, I need to keep this travel bug contained for the better part of 6 months. So, to pass the time I will just be over here planning itineraries and looking through my old travel pics. Anyone else have millions of itineraries planned for trips you have never taken?? Yep, that's me.
In the meantime, I thought I would share a walking guide to Paris, my all-time favorite city in the world (shocking). So here are my favorite neighborhoods to get lost in and stops you MUST make along the way.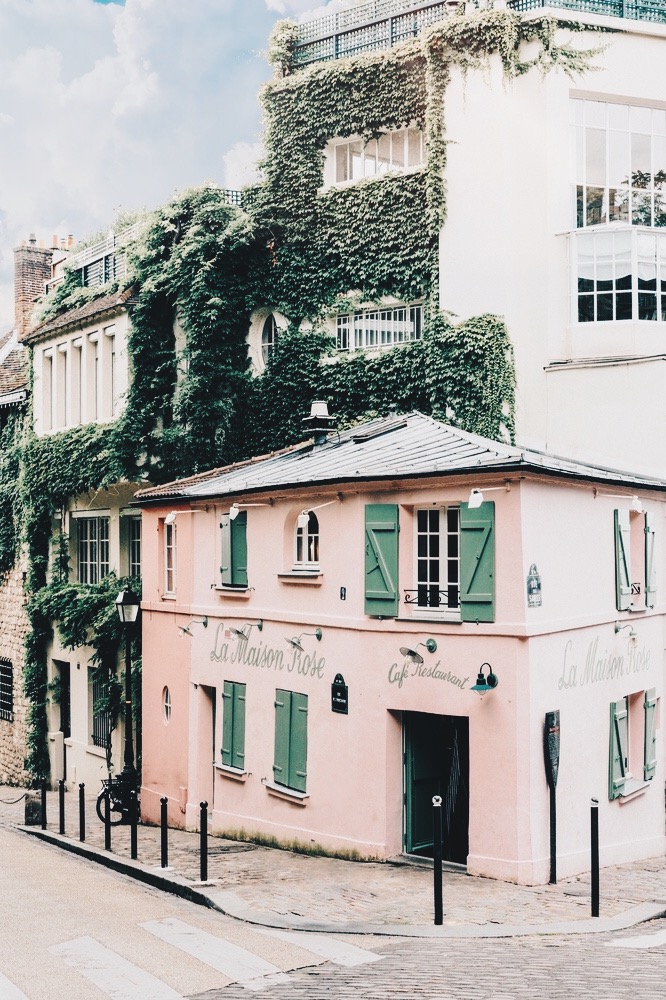 First, it is important to understand how Paris is laid out. It is divided into 20 different arrondissements, which are basically just different neighborhoods in the city. The Seine divides Paris in half, separating the Left from the Right bank. You cannot travel to Paris without doing both sides of the Seine, because they are equally amazing yet so different.
Photo from: Girls Guide to Paris
If you are looking for the tourist's guide, this is not it. While it would not be a trip to Paris without taking in a few tourist sites, like the Eiffel Tower or Sacre Coeur, I prefer to spend the majority of my time in Paris roaming the streets in pursuit of food + shopping ;).
MONTMARTRE
18 arrondissement
Montmartre is equally charming + overrun by tourists. This area of the city can get CRAZY crowded, so I would recommend waking up bright and early and having the streets to yourself. Paris really doesn't start to wake up until 9 or 10am, so grab an early coffee and make your way up to the 18th. Montmartre is crowded for good reason. The views of Paris cannot be beat and the streets are SO colorful. It feels like what I would imagine Paris was in the 1920s, quaint and filled with tiny terraces and authentic cafes.
Sitting at the top of the hill is the Sacre Coeur and a majestic carousel. I would highly recommend making this your first stop and taking in the views of Paris from the top!
From the Sacre Coeur, make your way up the hill to Le Consulat. If you can snatch a table outside, bravo. But be warned that it is probably overpriced and a half dozen tourist groups will walk by during your cup of joe. If not, just a passing by is worth your while. Again, this will undoubtably be overrun by tourists by midday, but for good reason. The street it sits on (before it is packed shoulder by shoulder with people) it quintessential old world Paris and needs to be seen! It looks like it is straight off a postcard.
Make your way back down and stop by the Le Moulin de la Galette. You will immediately recognize the facade and windmill, which have been immortalized by countless artists. We did not eat here, but if you can get a table, I have heard the food is amaz.
You MUST walk past Le Maison Rose on your way back down. It is a tiny pink cafe surrounded by a wall of ivy. We stopped in here for a bite because, well, it is a pink restaurant in Paris, so that is reason enough.
Another place that is worth a walk past simply for the the green storefront + lavender vines.
SAINT GERMAIN DE PRES
6 arrondissement
Saint Germain is in the heart of the left bank and might be the best walking neighborhood in Paris. I think Saint Germain will forever and always be my favorite arrondissement of them all. We stayed here on our honeymoon because we really wanted to buy a piece of artwork on our honeymoon as our wedding gift to eachother and St Germain is known to be the artist/gallery hub of Paris. We fell in love with it for a million more reasons.
Because macarons. That's it.
It is kind of a tradition of mine to make this my first stop when I get to Paris. I love everything about this place…the tiny, crowded outdoor seating, the snotty waiters, the overpriced salad, and the views + people watching you take in while sitting there. It opened in the 1880s and since then it has been flooded with the creme de la creme of Paris. Sit, eat, watch, enjoy!
Home to the Luxembourg Palace and gorgeous grounds, this makes the perfect stop for an afternoon stroll or snack on a park bench. Last trip to Paris, Blake and I picked up croissants, baguettes (carb + carbs + carbs while in Paris) and a bottle of wine and enjoyed it next to a gorgeous fountain in the gardens. I should mention that we never quite figured out if we were breaking any laws by drinking a bottle of wine in the park, but no one stopped us so we will consider it a win.
If you are looking to do some serious damage and accomplish all your shopping in one place, this is the most charming shopping mall you will ever meet. When in Europe I am usually overcome by a strong desire to take advantage of the Euro savings and shop some of Paris' finest brands. While I would love to drag my husband up and down Avenue Montaigne and hit every single store front, that makes for a rather grumpy afternoon. So, Le Bon Marche is a one stop shop with the best shoe department in the world, which makes for a very happy wife and husband. If you want to stop into Saint Laurent and it's friends, Saint Germain has a smaller storefront for most of the big designer houses.
I went here for the first time with my parents on my first ever trip to Paris :). A fight broke out in the back of the restaurant between a bunch of drunk old men! It was a very memorable dinner. But it was and always will be the most delicious seafood in Paris, in my opinion. This is on the pricier side, but they have an awesome/cheaper lunch menu. And, it's sister restaurant, Semilla, right across the street is also great and has a more casual feel.
LE MARAIS
3 & 4 arrondissement
I have to be honest, until two trips ago, Le Marais was not even on my radar. I had never ventured to that part of Paris and really had never even heard of it. Two trips ago I stayed on the Right Bank for the first time, so I walked through Le Marais by chance on my way to a restaurant, then again the next day on my way to another restaurant, and the same thing the following day. Well, turns out it is one of the oldest neighborhoods in Paris and is in the midst of a food revival. Almost all of the restaurants on my must try list are in Le Marais, or nearby. The streets are quaint, cobblestoned, and lined with vintage shops. If that doesn't sell you…I don't know what will. I loved Le Marais so much, that on our last trip I picked our hotel solely off its proximity to it.
This is a good place to start. It is a quintessential Parisian square lined with red brick buildings. Enjoy a coffee and croissant on a bench then pick the cutest street and just get lost in this adorable neighborhood!
The list of amazing breakfast places in Le Marais is long. This is maybe the best avocado toast in Paris. But that is the extent of their brunch menu. For my favorite brunch spots in Paris, see HERE!
Vintage shopping is always on my itinerary in Paris. It has some of the best vintage shopping in the world. Vintage Bar is a high end vintage shop with some AMAZING finds. Start here and venture onward. There are also some awesome art galleries nearby!
The antique shops in/near Le Marais are also awesome. Village St. Paul is a couple blocks worth of the cutest vintage/antique shops. It is ABSOLUTELY worth a venture in that direction!
If you are staying elsewhere in the city and want to make an entire day out of Le Marais, head to Au Passage for some of the best wine you will ever have. It was recommended to us as the hang out spot for Sommeliers on their off nights in Paris, so you know the wine must be amaz. We told the waiter what we like (my wine knowledge is seriously basic, so the extent of it was "full bodied red wine, NOTHING SWEET!") and he nailed it. He was also funny and so eager to talk to us about the states and wine there and it was just a really fun experience all together. We got an app too, some steak chimichurri thing which was lick the plate good. Then we moved onto the final stop on my Le Marais list!
Whenever we are in Europe, we have to get some good old fashioned Italian style pizza. Da Vito might be our favorite we have ever had. Bold statement, I know. I don't know if it is still technically Le Marais, but it is close enough to put it on this list. If you are making your way towards Bastille, it will be on your way. The pizza is to die for, but even better is the atmosphere and staff. It is teeny tiny, so come prepared to wait. But, there is an awesome speakeasy past the cooler in the back. Order an old fashioned and a champagne (served out of an old fashioned coupe) and sip while you wait for the gooey, cheesy deliciousness coming your way!
For more Paris recs, see my weekend guide to Paris, HERE! Paris, I cannot wait until we meet again…