I took a poll this week to see what kind of content I should do more or less of, and I was kind of blown away by the results! So I am going to try out some new and different content in the coming weeks, which makes me really excited! Travel posts were so popular. So, ask and you shall receive!
First of all, how pathetic is George in these pictures :(! Whenever I am packing, he turns into my human shadow and will NOT leave my side. So sad. I don't understand why, because whenever we travel he stays with my parents who have a huge backyard, a great dane (who is George's bff for life), and they feed him human food all weekend. My mom actually brings him a midnight snack in their bed every night because she swears he sleeps better when he has a snack before bed…so he lives like a king when we are gone.
I never appreciated the virtue of being able to travel light until I had BB. Now, when I am traveling without her, there is no greater feeling than being able to travel light (sans diaper bag, stroller, crackers, more crackers, stickers, more stickers, etc.). I used to be that crazy girl that packed her largest suitcase for a weekend trip. NO MORE. I am proud to say that I packed for an entire week in France in a carry-on. And I did it again this weekend for a trip to Vegas! I have come a long way. But, there is an art to traveling light. So here are ten tips for traveling lighter:
1
PLAN AHEAD
For my fellow mamas, this is easier said than done. If you have the time and can think through your trip, it is worth it. I always add a new note in the note app on my iPhone whenever I have a trip coming up. In the week leading up, when I have an extra second I add to it. Lay out a basic itinerary so you can think through the types of outfits you need. Here is a screenshot of what mine looked like for Vegas!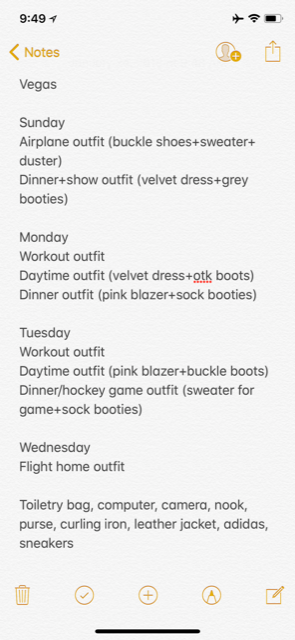 2
PICK 2-3 FAVORITES TO STYLE YOUR OUTFITS AROUND
I have and always will be a repeat outfit offender. I love finding a great piece that you can style a million ways. And traveling is my favorite time to do this. Shoes are the most important part of an outfit to me, so I would way rather wear the same dress three days in a row with three different pairs of shoes than three totally different outfits. Smaller accessories, like belts, jewelry, and mini crossbody bags can turn one dress into three totally different outfits! Here are the three items I formed my outfits around this trip:
1- My favorite item I've purchased so far this winter, a velvet Current Elliott dress
2- A pink Topshop blazer
3- My go-to leather pants
3
PLAN YOUR AIRPLANE OUTFIT
I will never understand those people who manage to look effortlessly chic for the airport. I always look like an Olsen twin on a bad day (you know what I mean). To save precious carryon space, wear your bulkiest shoes, bulkiest jacket and bulkiest sweater (for cold weather vacations). I also usually wear workout pants that I will recycle for a workout when we get there.   
4
TOILETRIES
If you're staying at a hotel, think about the amenities that will be there. I never pack a blow dryer (even though the hotel dryers take 1.5 hours to dry my hair), and I never pack shampoo/conditioner/body wash. If your "must bring" products are bigger than 3 oz, buy travel size if you can or get a tiny bottle in the $1 section of Target! We travel a lot, so I have all my travel size toiletries ready to go in a makeup bag, which makes packing really easy.
5
PJS
So, I am a big comfy clothes/pajama person and I want to be extra comfy when I am on vacation. But comfy clothes and pajamas are major space hogs. So I always call the hotel and see if they provide a robe in the room. If they do, I ditch the comfy clothes and pjs entirely.
6
EXTRAS
Even when I have the time and plan out every single outfit, I always feel the need to throw in an extra or two. BUT, now is not the time to throw in that awesome top you've never worn. If you don't wear it at home, you probably won't wear it on vacation. If you need to throw in some extras, throw in those tried and true pieces. The pants that look good every time, your favorite jeans, or that sweater you've worn 100 times.
7
PACK SMART
My mom taught me the best travel hacks. Always roll your clothes, they take up WAY less room when they're rolled. And stuff smaller items, like socks and undergarments, into your bigger shoes. This saves space AND keeps your shoes from getting deformed.
8
UTILIZE EVERY SPACE YOU HAVE
My go to travel items are my carry-on suitcase and my backpack. When I pack my suitcase, I always leave out my toiletries that I'll need to use the morning we travel, my electronics, and my camera. Those all go in my backpack at the last minute.
9
THINK SMALL
If you're trying to pack light, now is not the time to pack your massive purse. Grab a small cross body or clutch. It is also not the time to pack four different jackets. Jackets take up a ton of space, so wear your biggest one on the plane and maybe pack one other. For this trip I grabbed my tried and true black Moto jacket that can fold up into a tiny ball. 
10
BUY AN AWESOME CARRYON
All carryons are not created equal! Some hold WAY more than others. For an entire post on carryons, see HERE!
More travel posts to come! xoxo